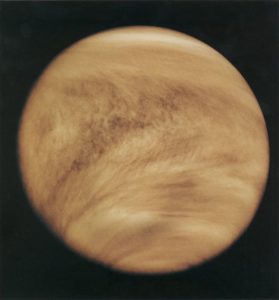 Venus is the second planet of the Solar System in order of distance from the Sun, which takes its name from the Roman goddess of love and beauty.
It is also defined as the Earth's "twin planet" because it has a mass and a a dimension which is very similar to our planet. However, its atmosphere is very different, since it is mainly constituted by carbon dioxide and is much thicker than our own.
Because of these features, the ground pressure is about 90 times the Earth's own pressure. Moreover, there is a very strong greenhouse effect which produces an average temperature of about 450 °C,  thus making Venus the hottest planet of the Solar System.
This planet could appear unsuitable to host life, but recent observations suggested the presence of phosphine in Venus'atmosphere, a molecule which is only produced on Earth by industrial processes, or by bacteria. The presence of this substance in Venus' atmosphere might be the proof of the presence of life upon its surface, in particular of microbes, which may also survive in the absence of oxygen, but this question is still è open a.
While we are waiting for the astronomers to understand what is happening on our twin planet, we are giving you the code in order to draw it with pixel art, as well as the colour or black and white cards to be printed. Have fun!