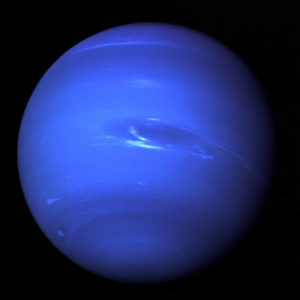 Netpune is  the last planet of the Solar System in order of distance from the Sun. It takes Neptune almost 165 years to travel along an orbit around our star, and a little more than 16 hours to complete one full turn around itself.
The picture on the right – taken by the Voyager 2 probe in 1989 – shows the presence of the Big Dark Spot, a system of storms with an average diametre of 14.000 km, which represents one of the largest atmospheric structures of the Solar System, after Jupiter's Great Red Spot.
In the following, you will find the code to realize it with pixel art, or you can print the colour card or the black and white card. Have fun!